Dear students and their families.
We are very excited to announce our return to Churchtown, Southport after 3 years away! For almost 10 years we taught Martial Arts in the annexe at St Cuthbert's Church but, unfortunately we had to relocate due to structural issues with the hall. The main hall has now been fully refurbished and we will be hosting Ju Jitsu classes there every Wednesday 6pm-7pm from 29th November 2017. These classes are suitable for all levels, beginners welcome! It's good to be back!!!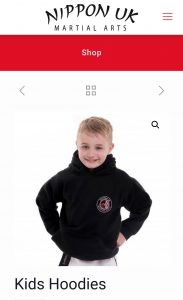 New Online Shop
We are pleased to announce the launch of our online Martial Arts Clothing shop. In an effort to reduce waiting times for orders and ensure your Martial Arts kit gets to you at the right place, we have made them available to order through our new website shop.
Order your items and collect them from your school or Dojo/Venue. You will receive a confirmation email once your order is placed. Please allow up to 10 days for Hoodies & T-shirts.
Please note, we do not process payments through our website. We accept cash or cheque payable to Nippon UK upon collection at your specified school/Venue.
The Team at Nippon UK